Professional paint scuttle with liners: Roll and Go XL
Professional paint scuttle with liners: Roll and Go XL
The Roll and Go XL is a stable paint tray with two compartments: one for rolling paint and another for your other materials. You take everything at once when you climb the ladder or platform. The Roll and Go XL is so stable that it won't tip over, even if you use the roller with a telescopic pole and press it firmly against the integrated rolling tray.
The special disposable liners mean you can use the tray again and again. Cleaning is also quicker because you no longer need to rinse. The handy pouring corner means you can pour the paint over the floor easily, or back into the can. So: less waste, less cost and less cleaning. And no annoying paint particles in the tray when it's time for the next job.
Where to buy
Benefits
User experiences
Video
Accessories
Faq
Features
Stable
Two compartments
With disposable liners
Benefits
No spills
Everything at hand
Cleaning unnecessary
Tooltalk, The Decorator June-July 2016 (journal), review by Wayne de Wet
"A tough, durable trade quality roller scuttle.
A classic design with some very interesting features. The Roll and Go XL liners are a snug fit and made of thin, durable plastic foil, which folds into itself making disposal easy!"
Matt Beynon, Beynons Brushes painting and decorating
Peter Patrick, Red Ink Creative, Belfast
On instagram @beardedpainter
I got sent one of these for the Raffle I'm running, I'm going to buy one for myself I liked it that much ❤️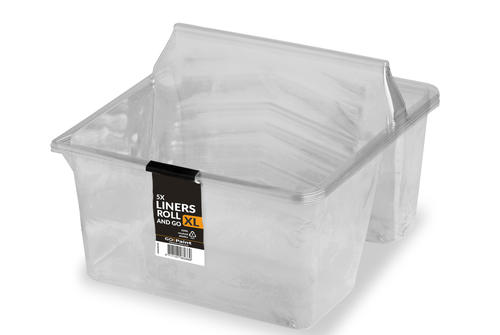 Disposable liner for Roll and Go XL
How many litres of paint fit in the Roll and Go XL?
A maximum of 8 litres will fit in the large container. You can use this volume extremely efficiently because no paint disappears behind a rolling rack as is the case in a normal paint bucket. In this sense you can easily compare this container to a 10 or 12 litre paint bucket.
Can I purchase the disposable liners separately?
Yes, the liners are sold separately in sets of 5.
Are the liners resistant to all sorts of paint and varnish?
The liners are made from plastic with a high resistance to chemicals (PET). You should be able to use all conventional solvent-based and water-based paints and varnishes. If you use special coatings or if you are in doubt, try first with a small quantity.
Related products
TIP!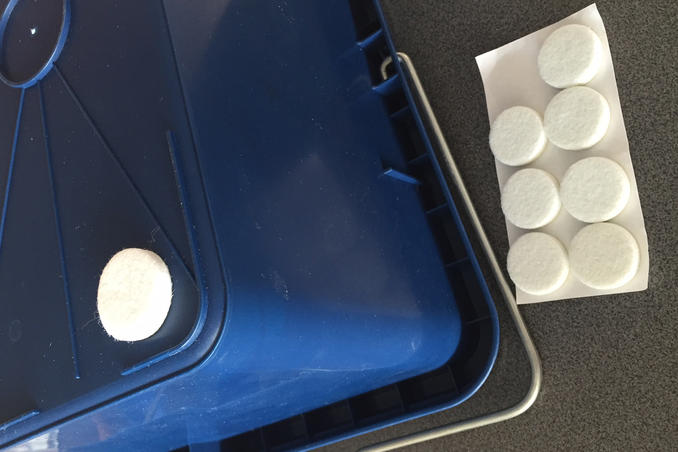 If you are varnishing a floor with a top layer that is (still) vulnerable to damage, such as an untreated parquet floor, then...